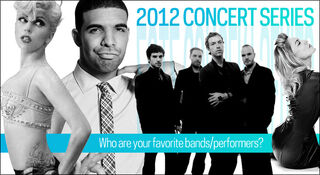 The Music Wiki's 2012 Concert Series
Show #3: Coldplay
Coldplay is currently on their fifth concert tour to coincide with their fifth studio album, Mylo Xyloto, and fittingly, the tour has five legs. The first two legs in Europe and North America have now passed, but fear not because there are two more European legs and one more North American leg. The tour kicked off on October 26th in Madrid with (see video below) and will finish in Hanover, Germany on September 22nd. With 75 arena shows in total, it goes without saying that Coldplay is a super group at this point.
When the tour stopped in Los Angeles last weekend, Coldplay covered the Beastie Boys' song "Fight for Your Right (to Party)" in honor of member MCA, who passed away last week. The tribute has gone viral for being, depending on who you ask, heartfelt or just downright insulting . One thing is for sure, the Beastie Boys themselves hated that song and never played it live.
Despite the mixed buzz about the MCA tribute, we've heard nothing but good things about the Mylo Xyloto tour. The diversity of the opening acts are a great testament to the general likability of Coldplay, and many fans, who used to dislike them, have said that seeing them live was a revelation.
Opening Acts
Emeli Sandé (North America, select dates)
Marina and the Diamonds (Manchester—4 December) (Europe, select dates) (North America—Leg, select dates)
Robyn (Europe, select dates) (North America, select dates)
Rita Ora (Europe, select dates)
Wolf Gang (North America, select dates)
Frank Ocean (Europe—Leg 3)
Ash (London—1 June)
Tickets
For tickets, visit the official Coldplay website.
Tour Dates
Videos
Poll
Are you going to see Coldplay?
If you've seen the show, share your experience below!