For the song "A Head Full of Dreams" click here.
For the era "A Head Full of Dreams Era" click here.
For the tour "A Head Full of Dreams Tour" click here.

Released
4 December 2015
Recorded
2014-2015
Studio
The Bakery and The Beehive, London, England, Henson Recording Studio, Hollywood, California, AIR Studios, London, England
Tour
A Head Full of Dreams Tour
Length
45:45 (Standard edition)

49:40 (Japanese edition)

Genre
Pop, pop rock
Writers
Chris Martin, Will Champion, Guy Berryman, Jonny Buckland
Producers
Stargate, Daniel Green, Digital Divide, Rik Simpson
Label
Coldplay short chronology
A Head Full of Dreams Era release chronology
Coldplay studio album chronology
Singles

"Adventure of a Lifetime"
Released: 6 November 2015
"Hymn for the Weekend"
Released: 25 January 2016
"Up&Up"
Released: TBA

Promotional singles

"Everglow"
Released: 26 November 2015
"Birds"
Released: 2 January 2016
A Head Full of Dreams is the seventh studio album by Coldplay. It was released on 4 December 2015 by Parlophone and Atlantic Records, with a markedly different style and sound from its predecessors. It is the second album by the band in North America on Atlantic, after Coldplay were transferred from Capitol Records America in 2013. For various songs on the album Coldplay collaborated with Beyoncé, Noel Gallagher, Tove Lo, Khatia Buniatishvili and Merry Clayton. The album was produced by Rik Simpson and Stargate. Coldplay have also revealed that the album features a sample of the Barack Obama singing "Amazing Grace" at Clementa C. Pinckney's funeral on the track "Kaleidoscope". This is the band's thrid album in a row to experiment with electronic music. The album had less of the quiter, somber sound of Ghost stories and more of the upbeat, uptempo, electropop sound of Mylo Xyloto.
The album received generally positive reviews from critics. It became the band's first album not to debut at number one in the UK after being held off the top spot by Adele's 25, however it topped the chart on 12 February 2016 following exposure from the band's Super Bowl 50 appearance.
Background
Edit
Coldplay began working on A Head Full of Dreams in the summer of 2014 while they were promoting their sixth album Ghost Stories. The album has a markedly different style and sound from its predecessors.
In an interview with Zane Lowe on 4 December 2014, Chris said the whole group was 'reinvigorated' by Ghost Stories and when the subject moved on to touring stadiums, Chris, like previous occasions, said it wouldn't 'feel right' to tour stadiums with Ghost Stories.
"
Well, we're in the studio and…ermm…well i think i'll tell you! I haven't told anyone this, we haven't told anyone this but we're making an album called A Head Full of Dreams…and that's what we're working on. We're right in the middle of it".
"

—

Chris to Zane Lowe
Chris explained "it's like the last Harry Potter book, not to say there won't be another thing one day but its the completion of something".
In an interview with Jo Whiley in December 2014, Guy Berryman and Jonny Buckland gave a hint as to the difference between A Head Full of Dreams and its predecessor – Buckland called it the "night to the day", comparing the style of Ghost Stories to the expected uplifting theme of A Head Full of Dreams. Chris Martin hinted at the style of the album by saying that the band was trying to make something colourful and uplifting. He also stated that it would be something to "shuffle your feet" to.
On 26 September 2015, the band performed at the Global Citizen Festival 2015 Global Citizen Festival in New York City, playing a six-song set, including a new song called "Amazing Day". The band's producer Rik Simpson confirmed that the song would be on the new album.
Production
Edit
The album was produced by Rik Simpson and Norwegian duo Stargate (Tor Hermansen and Mikkel Eriksen). Mixing duties were carried out predominately by Rik Simpson. Stargate executive produced the album.
Main article: A Head Full of Dreams Tour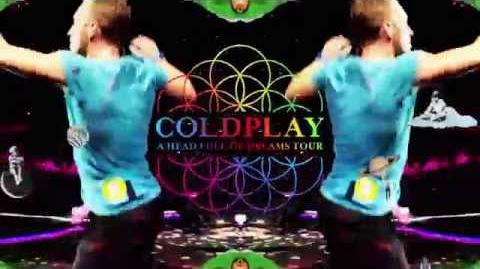 Compared to the sparse tour dates of the Ghost Stories era, Coldplay are expected to announce a larger global tour, more reminiscent of the Mylo Xyloto Tour than the Ghost Stories Tour, to promote both A Head Full of Dreams and Ghost Stories. It is rumoured that the band will perform in locations such as India and South America – more specifically, they are rumoured to tour Argentina, Perú, Brazil, Chile and Colombia in the first half of 2016. They have since confirmed that pre-production on the tour has started and that the official tour is planned to start next year. On 20 November 2015, they announced the A Head Full of Dreams Tour, with shows in South America starting at 31 March 2016, Buenos Aires and a European leg is also announced for summer 2016. They will play in Peru for the first time, on April 5, 2016.
Promotion
Edit
Around 30 October 2015 anonymous posters were pinned up on the London Underground showing a geometric pattern, known as the Flower of Life, along with a note "December 4".
Coldplay fans claimed that the symbol resembled the design on a T-shirt worn by Coldplay frontman Chris Martin at the Global Citizen Festival in New York. On November 2, Coldplay posted the same piece of artwork as an animated GIF on their Twitter account, seemingly confirming that it would be the album cover and December 4 was the album's release date.
One day later, they published another animated image of which the former was a detailed view. The artwork was created by Argentinean artist Pilar Zeta in collaboration with the band.
Live Promotion
Edit
At the Global Citizen Festival in New York Coldplay performed six songs, ending with the live debut of "Amazing Day". They also played Amazing Day at TFI Friday, where they played four songs including the live debut of "Adventure of a Lifetime". During their concert at the Belasco Theater in Los Angeles they performed four songs from the new album, including the live debut of the songs A Head Full of Dreams and Up&Up.
On November 24 2015, Coldplay started releasing 10-15 second snippets of each song from the new album via Instagram at hourly intervals. Here are the clip of all snippets (including "X Marks the Spot")
Allegations
Edit
Further Information: DailyMail 18 February 2016
Oli Sykes, lead signer of British post-hardcore band Bring Me The Horizon, claimed that the flower of life logo Coldplay used ripped off the design of Bring Me The Horizon's 2013 album 'Sempiternal'. Sykes took to twitter accusing Coldplay of "jackin our steez".
Oli Sykes later leapt on Coldplay's table during 2016 NME awards ceremony (17 February 2016) while performing "Happy Song". Fresh from performing the prestigious halftime slot at the Super Bowl, Coldplay were honoured with the 2016 Godlike Genius Award.
Oli denied that the stunt was a 'dirty protest' over previous claims he made that Coldplay's album artwork for A Head Full of Dreams copied his band's Sempiternal record. He told BANG Showbiz: 'We were aiming for Yoko Ono! No, not really. Did it look intentional? It wasn't. He said he wanted to hear us so I brought it as close as possible. My sound just wasn't right that's why I went onto Chris Martin's table... it wasn't a dirty protest.'
Promotional singles
Edit
Critical reception
Edit
Professional ratings
Review scores
Source
Rating
AllMusic

3.5/5

Chicago Tribune

2/4

The Daily Telegraph

3/5

Exclaim!
6/10
The Guardian

3/5

NME
4/5
Pitchfork Media
4.8/10
Q

4/5

Rolling Stone

4/5

Spin
6/10
A Head Full of Dreams received mixed reviews from critics. At Metacritic, which assigns a normalized rating from mainstream critics' reviews, the album had a score of 60 out of 100, based on 27 reviews.Citing the band's unwillingness to stray from their tried and true formula, Ian Gormely of Exclaim! wrote that "A Head Full of Dreams might have been a poptimist masterpiece. Instead, it's just another Coldplay album, with all the baggage — both positive and negative — that entails."
Alexis Petridis of The Guardian gave the album 3/5 stars and said: "...A Head Full of Dreams is frustratingly blighted by the sense that Coldplay haven't fully committed to the album's big idea: they keep deviating from the Stargate pop plan to knock out stuff like Amazing Day, which has a guitar line brazenly pinched from John Barry's Midnight Cowboy theme and is self-evidently going to turn up soundtracking clip montages on sports programmes and reality shows for the rest of eternity. It's a moot point whether that's a sign of innate conservatism or of a band that know exactly what they are doing, who understand that you won't keep packing out those Midwestern sports stadiums if you frighten the horses." NME ranked it the 35th-best album of 2015.
Commercial performance
Edit
A Head Full of Dreams debuted at number three on the Irish Albums Chart on 11 December 2015, the band's lowest charting album in Ireland and their first to miss the top spot since Parachutes in 2000. The same day, the album debuted at number two on the UK Albums Chart on sales of 235,975, behind Adele's 25, which denied Coldplay a seventh consecutive number-one album. It was, however, their highest first-week album sales since 2008's Viva la Vida or Death and All His Friends, which sold 302,074 copies in its first week. Had A Head Full of Dreams debuted atop the UK Albums Chart, it would have made Coldplay only the second band in UK chart history (after Oasis) to do so with their first seven albums. The album did manage to top both the UK Album Downloads Chart and the Official Vinyl Albums Chart.
The album also reached number two in Australia, Canada, the Netherlands, and Italy, held off number one by Adele's 25 in all territories. In the US, A Head Full of Dreams debuted on the US Billboard 200 chart at number two, powered by first week sales 210,000 equivalent album units; it sold 195,000 copies in its first week, with the remainder of its unit total reflecting the album's streaming activity and track sales. In its second week, the album fell to number seven on the Billboard 200, selling 61,000 copies. On the chart dated February 27, 2016, the album returns to the top ten of the US Billboard 200, peaking at number four selling 90,000 units (71,000 in pure album sales). The only country where A Head Full of Dreams managed to debut at number one was Norway, replacing 25. This enabled Coldplay to achieve there what Adele prevented them from doing in other territories; all of their studio albums reaching the top spot.
On 12 February 2016, the album rose to number one selling more than 30,000 copies securing them a seventh number one album in the UK following positive reception and exposure from Coldplay's headlining set at the Super Bowl 50 halftime show, thus becoming the second most act with most number one albums.
Track Listing
Edit
All songs written and composed by Coldplay. All songs arranged by Coldplay and Stargate.
| No | Title | Producer(s) | Length |
| --- | --- | --- | --- |
| 1. | "A Head Full of Dreams" | Stargate, Rik Simpson | 3:43 |
| 2. | "Birds" | Stargate, Rik Simpson | 3:49 |
| 3. | "Hymn for the Weekend | Stargate, Rik Simpson, Digital Divide | 4:18 |
| 4. | "Everglow" | Stargate, Rik Simpson | 4:42 |
| 5. | "Adventure of a Lifetime" | Stargate, Rik Simpson | 4:23 |
| 6. | "Fun" (featuring Tove Lo) | Stargate, Rik Simpson | 4:27 |
| 7. | "Kaleidoscope" | Stargate, Rik Simpson | 1:51 |
| 8. | "Army of One" ("Army of One" – 0:00–3:22 / "X Marks the Spot" – 3:23–6:16) | Stargate, Rik Simpson, Daniel Green | 6:16 |
| 9. | "Amazing Day"  | Stargate, Rik Simpson | 4:31 |
| 10. | "Colour Spectrum" | Daniel Green | 1:00 |
| 11. | "Up&Up"  | Stargate, Rik Simpson | 6:45 |
Japanese Edition additional tracks
#
Title
Producer(s)
Length
12.
"Miracles"
Stargate, Daniel Green, Rik Simpson
3:55